https://www.buffalorising.com/2018/09/album-review-noah-gokey-reason-rhyme/
Buffalo group Noah Gokey has been writing and performing since 2005, and if you're local to the greater Buffalo area, you have almost certainly heard the name. Comprised of three members, and a songbook of over 51 original tunes, Noah Gokey recently dropped a 34 track album titled Reason & Rhyme. This is a bit over 2 hours of all original, new music. Any songwriter or original group would have to admit- that's a lot of time and work to be able to write up an entire discography worth of music and put it on one album. While there can be some drawbacks to this level of saturation, Noah Gokey manages to maintains a nice flow to the listening experience.
Corey Hagstrom (guitar), Andrew Bastiano (drums), and Steve Hawley (bass, keys) put in the back-breaking work to undertake making a DIY, organic, raw original album and came out with a fun product. There's much to be said about the work and care that goes into recording DIY (speaking from experience), let alone 34 songs for release. Hagstrom's production showed improvement even over the course of the album, and it's going to be exciting to hear how it improves more over time.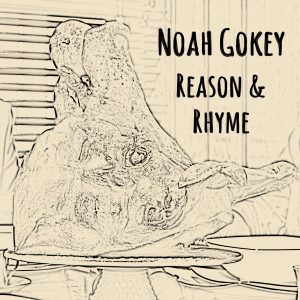 Each track offers a bit of a few things; good hooks, thoughtful narrative, and an ardent rock influence. The album is steeped in the various rock stylings of the 90's- ranging from Dave Matthews inspired vocal inflections to chunky Alice in Chains guitars, the influences Noah Gokey draws from are evident, giving the album a sort of nostalgic feel. Being such a huge album content-wise, it was tough to find a single narrative arc. In place of this, it seems the album was broken down into a couple sections or phases.
The first eight songs or so offered a more acoustic and pop-oriented sound, featuring Hagstrom's vocals primarily. This was underscored by shimmering acoustic rhythm guitar and a nice rich bass on the bottom end. The drums take a back-seat for the most part in this section. The opening riff in "Bubbles" (track 5), catches the ear, eventually developing into a heavier rock groove with a bluesy Gilmour style guitar solo. The first section climaxes during "Uncle Sam Subway," a funkier song with more prominent drums. From here the album slows down a bit before introducing a handful of grunge songs mixed in with lighter songs with more blues influenced rock n roll.
The ninth track ("Offer Response") establishes a heavier side of the album. Hagstrom continues to write in thoughtful rhymes while the band pumps the energy with bigger sounding drums and more droning bass. A few of the following tunes feature interesting twists; some stacked harmonies, a harmonica solo by Hagstrom, and lyrics about Reptiles taking over the planet. There's a lot of intrigue, although occasionally a few of the featured solo lines get lost in the mix. Most of the tracks between 10-14 are a bit of a grab bag in terms of genre. "The Way" (track 15) jolts the listener back into a heavier style. The song builds well, and the hairy guitar acts as a precursor to the full-on distorted tones later in the album. After a couple songs worth of the more acoustic style from earlier in the album, the band carries on filling a more dense sonic space, with some good features on drums and bass, and an eventual synthesis of the folky sound from earlier meshed with the later grungier feel. The band does a good job of fusing elements of both these styles, keeping these two main themes present through the album.
There's a lot of content in this album, offering a bunch of good tunes for fans of all types of music. While the flow can be a bit of a grab bag, Noah Gokey is able to maintain a consistent 90's rock vibe without venturing too far from their sound. This yields a 34-track album with songs that you can pick out of a hat, listen to, and enjoy in or out of the context of the album. With a lot of good replay value, this album stays exciting. It will be interesting to see the direction the band takes after releasing this behemoth of a project, given their ability to dip into characteristics of so many varying styles. Check out Noah Gokey live, and take a listen to this album and some of their other discography!